STORY 1
Banjo & Tory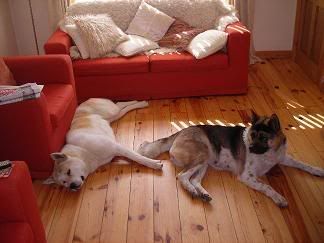 Hi I would just like to write a story about me getting banjo and say how glad I am I adopted him.
I was currently looking for a new pup I had secured one of a litter in Birmingham but then came across the Friends of Akitas web site and forum. After having a quick look through it and becoming a member of the forum I thought I might adopt one, I wasn't sure as I tried to re-home a male Akita before from being kept badly but he was crazy not dog friendly at all. After going through the forum and site I asked Elsa about the way to go about this, I looked at all the pics of Akitas and felt so sorry for some of them and thought if I adopt one it would be great to give one a good life and brill home.
After a few chats with Elsa she told me she might have a big boy for me (banjo) I thought hard and saw pics of him. When I saw the pics I thought he was gorgeous and looked a big pet. I filled in my forms then sent them to Elsa and everything went well with them so she came out for a home check that went great too. After that we arranged to meet with banjo and my girl Akita Tori, we went a walk down the park with them both and it went great couldn't of went any better! After the walk we brought them up to my house and it went well with them both (love at first sight I think) the rest is history because he stayed with us from that day! I couldn't be happier that I adopted banjo it made me feel great giving him a good life that he didn't have and I gave Tori a big play mate! Banjo is part of the family now and feels like he always has been! He's a big pet and a Messer, but most of all he gets on well so much with my friends, Tori, family and me! I wouldn't look back one bit I love the big man to bits and so dos everyone else! I would recommend it anyone as I got great joy in re-homing him and giving him a new life! Simon
---
STORY 2
The Difference a Loving Home Can Make!
Meet Teddy!
FOA first found about Teddy after a call from the Pound! Another Akita had come through their doors as a stray and they knew we were there to help him! Unfortunately for Teddy as with so many dogs his owners had decided they did not want him any more and to make matters worse for the poor boy, he found himself in a death row pound! He was in need of some tender loving care and attention, a good groom and some good food to help him put on some much needed weight. Thank goodness for FOA's volunteer fosterers! Teddy's story was publicised on this website and Col & Billie came forward to foster him.
This is Teddy now; he seems a completely different dog, totally settled. Now he is loving, loyal, easy to train, full of life and has put on the much needed weight! He is the model dog but he still has a bit of the cheeky chappie that makes him so irresistible, he loves other dogs and they love him, he adores his agility and obedience training and has perfect manners! What more could you ask for from such a lovely dog!?!